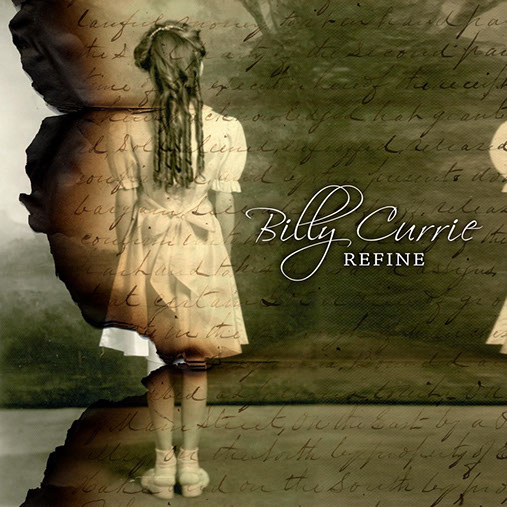 1. Soliloquy
2. Extremism
3. Supporting The Sky With Both Hands
4. Empty Stage Mantra
5. Beyond Our Own Skin
6. People Came And Laughed
7. Martyr Points
8. Bend The Bow
9. Love Signs And Triangles
10. Cycle There
Mixed and Produced by Billy Currie and Peter Dudley
All Tracks written by Billy Currie
Artwork by Mick O'Farrell
Recorded at Cloudy Hands Studio London
'Refine' is pure indulgence, presenting a depth of character that expands way beyond the base of a vast ocean. Containing superb moments of light and shade, there remains no shadow of a doubt that this is Billy Currie's finest output to date. A work of philosophical complexities and strong inner concepts, the ornate album artwork is the perfect pictorial representation.
"Soliloquy" is a vibrant description of flawless portraiture. The opening passage, an amalgamation of gracious violin and piano, gently entice, going forth to exhibit one of albums boldest tracks. Its power and glory is celebrated during outbursts of dynamic synth textures, enhanced with the discrete underlying melody throughout.
The vibrations of "Extremism" extend beautifully alongside a contemporary styled groove; the expressive instrumentation injecting a sense of adventure into what could be a sinister journey, before a more jovial destination is reached in "Supporting the Sky with Both Hands."
The ornamental and flamboyant "Empty Stage Mantra" flaunts its body, drawing attention to the unconventional & atmospheric string enhancements, before the piano style shows a warm affection towards `Quartet's' "Cut and Run." "Beyond Our Own Skin" grants an uplifting freedom, completed as it edges into a movement that becomes busied, erratic and heroic.
"People Came and Laughed" is a scene of serenity, promptly switching to a beat driven swing of seduction, further enhanced with lustful keys. Bridged with celebratory sounding synth swirls and crashes of atmospheric improvisation, it's complemented with a vivid digression to the most beautiful naked piano - all before the tracks final climax.
"Martyr Points" is driven by a catchy ostinato, before breaking into those classic sounds that could easily have emerged from the Ultravox/Visage backwater; yet somehow manage to flow from a fresh natural spring rather than a recycling plant. The violin solo is one of the most engaging flashbacks.
Emulating a creepy cold presence of spirit with its gentle chimes is "Bend the Bow," constructing its own ghostly tune - each note decaying in such a way that lends a darker side to every lurking shadow.
Billy Currie is a virtuoso who continues to seek new forms of conceptual expression. The unrivalled quality that is 'Refine', is set to ensure that demand for Billy's highly prized originality shall not be diminished.
Refine is a grand result and wonderfully produced - expect a full-bodied unveiling of distinguished and intellectual musical illustration.
Jus Forrest