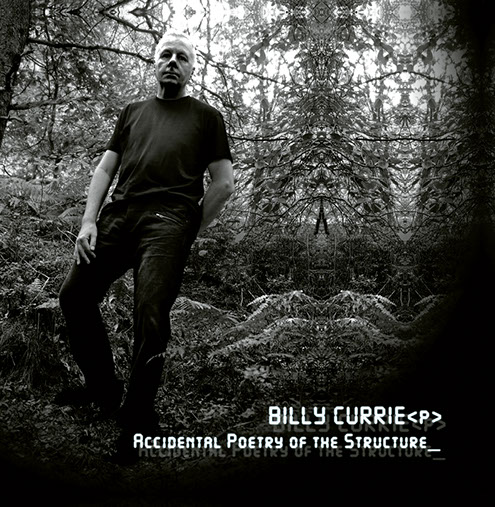 1. Accidental Poetry of the Structure
2. Williams Mix
3. Skips of a Chopped Head
4. Krakow
5. Idee Fixe Movement Three
6. Matsang River
7. Hall of Impressions
8. Folly Brook
9. Compassion
10. Listening to Strength
All tracks written by Billy Currie
Mixed & Produced by Billy Currie & Peter Dudley
Recorded at Cloudy Hands Studio London
Artwork & Photography by Mick O'Farrell
This is a powerful, extrovert, electronic album. Billy experiments with amp distortion, not just on his Synthesiser sounds but also with the Viola. The synthesiser called the Minimonsta appealed very much to Billy using it for bass on the first track "Accidental Poetry of the Structure", and for soloing on the second track "Williams Mix" and many other places. The third track "Skips of a Chopped Head" has a hyper, building, three four time, nightmarish feel, climaxing with Billy speaking within the track while his Viola playing screams out! Various piano sounds and parts come together for "Krakow", the fourth piece, with Billy using pizzicato Viola. A reggae influence creeps in. He is obviously having fun with this track! His time at Island records must have had some influence on him.
Billy says that the fifth track was influenced by Steve Martland. That will be the fast, syncopated rhythms I think. Much piano soloing on this track. A very free feeling. The sixth piece all started from Billy taking the end few notes of his solo from "On Broadway", the live version he performed with Gary Numan. Billy hadn't listened to that solo for years but on doing so thought the improvised melody, that he comes out with right at the end, could be utilised for a completely new work. Here it is, very joyful! By the seventh track the listener is reined in a little to experience a more quiet and sometimes peaceful music. The quirky feel of these last four tracks is very attractive. Reminiscent of his "Stand Up And Walk" period. Billy's unique Violin playing now comes to the fore. The eighth track called "Folly Brook" is named after a beautiful walk that Billy takes between Totteridge and Mill Hill, North London, which passes through a lake in the woods. "Compassion", the ninth piece, is really made up of a very warm, shimmering Violin sound with a lonely piano part. This is about compassion for all the suffering in the world. Billy uses simple ingredients of Synthesisers, Violin and Piano to a mesmerising effect.
Billy says:-
"The title 'Accidental Poetry of the Structure' is about the creative process of composing the music. When I write I usually have two or three ideas on the go. Differing colours and emotions. It is only when I work on the structure that the sparks start to fly and accidental to this process of structuralising the piece the musical ideas come to life and speak! The poetry of music is accidental to this creative structural activity".